Due to COVID we are unable to host our annual Presentation Day at the Davistown RSL. With restrictions around gatherings and social events our only option  is to have a trophy only presentation (pickup) at our Clubhouse on Saturday 31st October.
We are looking at kicking this off from around 9am, while still needing to adhere to COVID restrictions. The plan will be for teams to come through the clubhouse at staggered times, pick up their awards and then leave. We acknowledge its not ideal but its our only option of getting awards distributed to everyone. Players in line for awards such as 10 years' service, 100/150 games or a perpetual trophy etc. will receive this award during their team presentation.
It's only a small area inside the clubhouse so its going to be restricted to the players and officials in the individual team and up to 2 parents/guardian per player. We are also going to need people to complete COVID attendance sheets, one person per household. We will have a table at the entrance for this to be completed.
As soon as the times are confirmed we will share it with team managers, on our Facebook and Colts website. Please note that it will start at the U6's and progress through the teams to U17's. We are also hoping to have all photos available, however the yearbook looks like it won't be available on the day but we'll work on getting it to team/players as soon as its been printed.
Stay tuned for confirmation of times for each of the ages/teams.
The club apologises for not being able to host our normal presentation day activities which is due to COVID compliance requirements.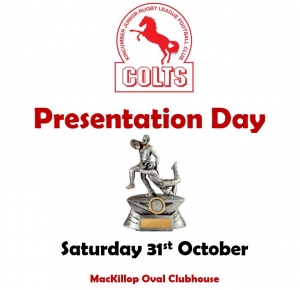 https://kincumbercolts.com.au/wp-content/uploads/2019/01/default-featurd-image3.jpg
400
1100
Kincumber Colts
https://kincumbercolts.com.au/wp-content/uploads/2018/09/logo2.png
Kincumber Colts
2020-10-16 08:36:57
2020-10-16 08:36:57
Colts Presentation Day - Saturday 31st October - MacKillop Clubhouse