We've had to review how we can best get all the trophies to players and not get in trouble for COVID breaches. Unfortunately this year its a trophy/awards collection day as opposed to a Presentation day. Due to the size of the clubhouse and needing to be compliant with social distancing, only the smaller mini teams will be able to have a parent in the room when their coach presents their award. When awards are presented to Mods and International teams, only the team and their officials will be allowed in the clubhouse. If the teams then want to have any photos with their awards and share this with families, they can move down to an open area on the field so we can remain COVID compliant.
Teams should arrive 10 – 15 minutes before their scheduled trophy collection time and entry to the Clubhouse will be via the oval facing doors. It will be one team to enter at a time. Teams will enter the clubhouse, the coach will then hand out the trophy and other awards and then the team will exit the carpark facing door. Its recommended that teams don't congregate just outside the exit door. Feel free to move down towards the toilet end of the clubhouse or onto one of the open areas on the field. Once again we sincerely apologise for this inconvenience but we need to avoid any potential COVID breach and possible club fine.
Where multiple teams are listed for a scheduled time, the teams should enter in order as listed e.g. 11:15 Age U11, U11 Division 1 enters first followed by U11 Division 2 only after the U11-1's team have exited the clubhouse.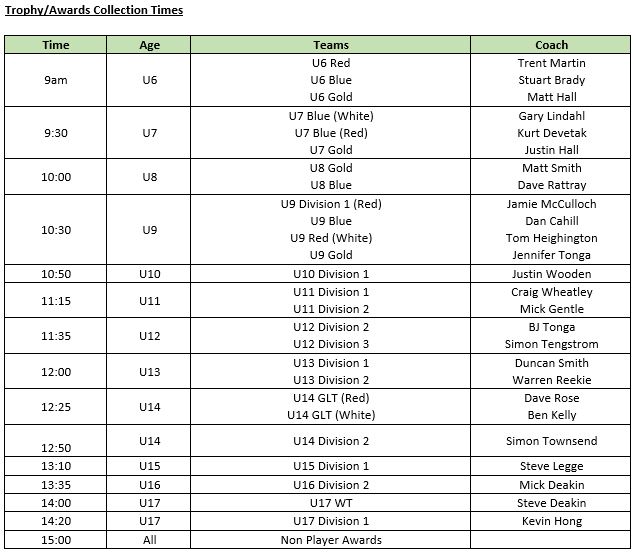 https://kincumbercolts.com.au/wp-content/uploads/2019/01/default-featurd-image3.jpg
400
1100
Kincumber Colts
https://kincumbercolts.com.au/wp-content/uploads/2018/09/logo2.png
Kincumber Colts
2020-10-20 10:49:13
2020-10-20 10:49:13
Trophy/Awards Collection Day - Saturday 31st October at MacKillop Oval Clubhouse